The Peabody Award-winning reporter and author speaks on authenticity and the power of storytelling.
Mariana Atencio knows how to make an entrance. Before she took the stage to address a general session of the American Library Association's (ALA) annual conference on June 24, the MSNBC correspondent danced into the auditorium to the beat of "America" from West Side Story, which features Puerto Rican men and women cheekily debating the benefits and drawbacks of life away from home. It set the tone, both thoughtful and playful, for a stirring meditation on the importance of authenticity in storytelling and social dialogue.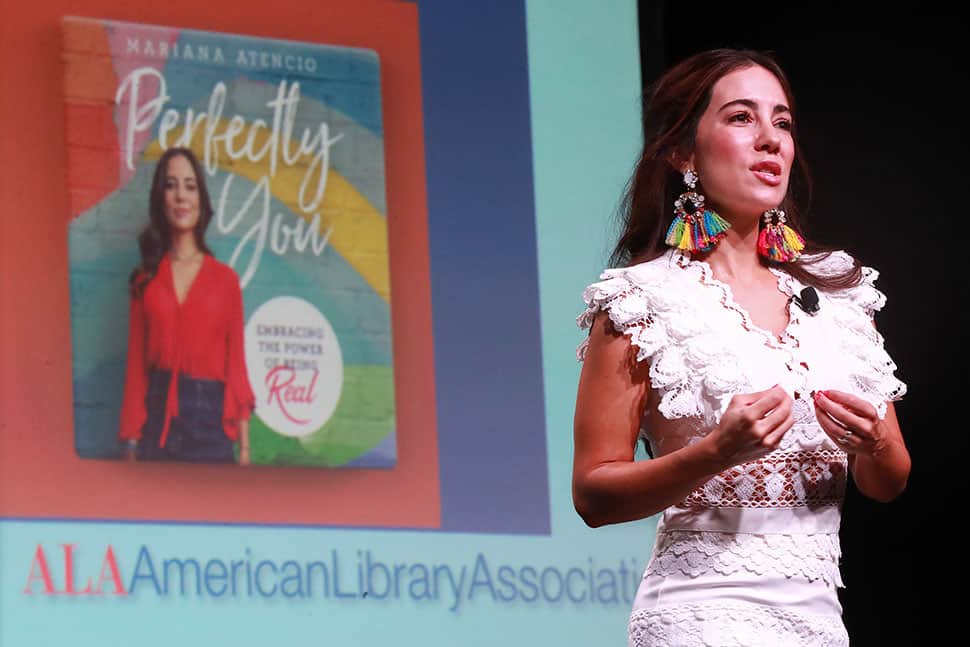 Atencio's memoir, Perfectly You, traces her journey from coastal Venezuela—where she devoured the work of authors like Isabel Allende and Gabriel García Márquez—to her graduate work at the Columbia University School of Journalism in New York City; from Univision to the English-language market; from shy new arrival to prominent cultural ambassador. Her 2017 TEDx talk, "What makes you special?," has been viewed more than 9.4 million times on YouTube and translated into eight languages.
"When you are a woman and an immigrant from a minority community, you don't feel like you have a glass ceiling over you; you feel like an entire concrete building sits atop your head. But sometimes, what you least expect or desire is exactly what will prompt you to do something so much bigger than yourself."
Reflecting themes that recurred and resonated throughout conference sessions, Atencio emphasized the crucial role that libraries play in supporting new arrivals in the United States.
"The library is a place where immigrants can fill out paperwork, job applications, résumés—believe me, I know because I did it," she said. "Nowadays when I get assigned to work at a library, it means I'm covering an election and the library has been designated as a polling location. But I love it, because despite how tense it is to cover politics these days, the first thing I notice is conversations sparking organically among parents and kids. They become kindred spirits."
She drew parallels between the political strife that drove her to pursue a journalism career in the United States, and the tensions of American life in the aftermath of the 2016 election.